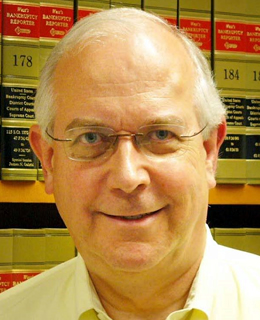 Charles G. Case II served as a United States Bankruptcy Judge from 1994 to 2013 after a 19-year career in private law practice. A graduate of Harvard University (B.A. cum laude) and Arizona State University College of Law (J.D. magna cum laude and a recent recipient of the Outstanding Alumnus award), he is a member of several important legal associations including the American College of Bankruptcy, American Law Institute and the International Insolvency Institute. He is a past-president of the National Conference of Bankruptcy Judges.
Judge Case has been very active in legal education, having taught full term classes in secured transactions, bankruptcy, creditors' rights and international insolvency at Arizona State University and guest lectured on similar subjects at four different US law schools. In Italy, he has been a guest lecturer at five different universities and has taught a full term class on Financial Distress and Insolvency at John Cabot University in Rome.
He has contributed to numerous US legal publications and has written on United States bankruptcy law for several publications in Italy and Germany.  In addition to speaking at 20 conferences in Italy, he has made presentations at workshops and/or consulted on bankruptcy and commercial law issues on over fifty separate occasions in 23 countries throughout the world.  He has been active in the World Bank's initiatives to improve creditors' rights and insolvency laws. He has spoken at over one hundred conferences in the United States on domestic and international commercial and bankruptcy law.